Newer posts are loading.

You are at the newest post.
Click here
to check if anything new just came in.
December
16
2014
Everything You Want To Know About Achilles Tendinitis
Overview
Achilles tendonitis is an inflammation of the Achilles tendon. This inflammation is typically short-lived. Over time, if not resolved, the condition may progress to a degeneration of the tendon (Achilles tendonosis), in which the tendon loses its organized structure and is likely to develop microscopic tears. Sometimes the degeneration involves the site where the Achilles tendon attaches to the heel bone. In rare cases, chronic degeneration with or without pain may result in rupture of the tendon.
Causes
The Achilles tendon is a strong band of connective tissue that attaches the calf muscle to the heel bone. When the muscle contracts, the tendon transmits the power of this contraction to the heel, producing movement. The Achilles tendon moves through a protective sheath and is made up of thousands of tiny fibres. It is thought that Achilles tendonitis develops when overuse of the tendon causes the tiny fibres that make up the tendon to tear. This causes inflammation, pain and swelling. As the tendon swells it can begin to rub against the sheath surrounding it, irritating the sheath and causing it too to become inflamed and swollen. It has a poor blood supply, which can make it susceptible to injury and can make recovery from injury slow. Factors that can lead to the development of Achilles tendonitis include, tight or weak calf muscles, rapidly increasing the amount or intensity of exercise. Hill climbing or stair climbing exercises. Changes in footwear, particularly changing from wearing high-heeled shoes to wearing flat shoes. Wearing inadequate or inappropriate shoes for the sporting activity being undertaken. Not adequately warming up and stretching prior to exercise. A sudden sharp movement that causes the calf muscles to contract and the stress on the Achilles tendon to be increased. This can cause the tendon fibres to tear.
Symptoms
The primary symptom of Achilles tendon inflammation is pain in the back of the heel, which initially increases when exercise is begun and often lessens as exercise continues. A complete tear of the Achilles tendon typically occurs with a sudden forceful change in direction when running or playing tennis and is often accompanied by a sensation of having been struck in the back of the ankle and calf with an object such as a baseball bat.
Diagnosis
The doctor will perform a physical exam. The doctor will look for tenderness along the tendon and pain in the area of the tendon when you stand on your toes. X-rays can help diagnose bone problems. An MRI scan may be done if your doctor is thinking about surgery or is worried about the tear in the Achilles tendon.
Nonsurgical Treatment
Tendinitis usually responds well to self-care measures. But if your signs and symptoms are severe or persistent, your doctor might suggest other treatment options. If over-the-counter pain medications - such as ibuprofen (Advil, Motrin IB, others) or naproxen (Aleve) - aren't enough, your doctor might prescribe stronger medications to reduce inflammation and relieve pain. A physical therapist might suggest some of the following treatment options. Exercises. Therapists often prescribe specific stretching and strengthening exercises to promote healing and strengthening of the Achilles tendon and its supporting structures. Orthotic devices. A shoe insert or wedge that slightly elevates your heel can relieve strain on the tendon and provide a cushion that lessens the amount of force exerted on your Achilles tendon.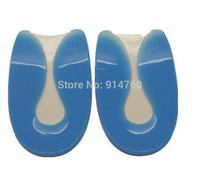 Surgical Treatment
Percutaneous Achilles Tendon Surgery. During this procedure the surgeon will make 3 to 4 incisions (approx. 2.5 cm long) on both sides of the Achilles tendon. Small forceps are used to free the tendon sheath (the soft tissue casing around your Achilles tendon) to make room for the surgeon to stitch/suture any tears. Skilled surgeons may perform a percutaneous achilles tendon surgery with ultrasound imaging techniques to allow for blink suturing with stab incisions made by a surgical suture needle. This procedure can be done in 3 different ways depending on the preference and experience of your surgeon. Instead of making several 2.5 cm incisions for this procedure, some surgeons will use guided imaging with an ultrasound to see the Achilles tendon tissue without having to open up your ankle. For this technique, they will use a surgical needle to repeatedly stab your Achilles tendon. These "stab incisions" will allow the surgeon to "blindly" suture your tendon without seeing the actual tissue. As another option - some surgeons will only make 1 to 3 incisions for smaller surgical implements to repair your tendon while relying on imaging ultrasound to see your damaged tissue. During either procedure the use of ultrasound imaging or endoscopic techniques requires a very skilled surgeon.
Prevention
Wear shoes that fit correctly and support your feet: Replace your running or exercise shoes before the padding or shock absorption wears out. Shock absorption greatly decreases as the treads on the bottoms or sides of your shoes begin to wear down. You may need running shoes that give your foot more heel or arch support. You may need shoe inserts to keep your foot from rolling inward. Stretch before you exercise: Always warm up your muscles and stretch gently before you exercise. Do cool down exercises when you are finished. This will loosen your muscles and decrease stress on your Achilles tendon. Exercise the right way: If your tendinitis is caused by the way that you exercise, ask a trainer, coach, or your caregiver for help. They can teach you ways to train or exercise to help prevent Achilles tendinitis. Do not run or exercise on uneven or hard surfaces. Instead, run on softer surfaces such as treadmills, rubber tracks, grass, or evenly packed dirt tracks.